KR awards AIP to HD Hyundai Heavy Industries' LNG dual-fuel VLGC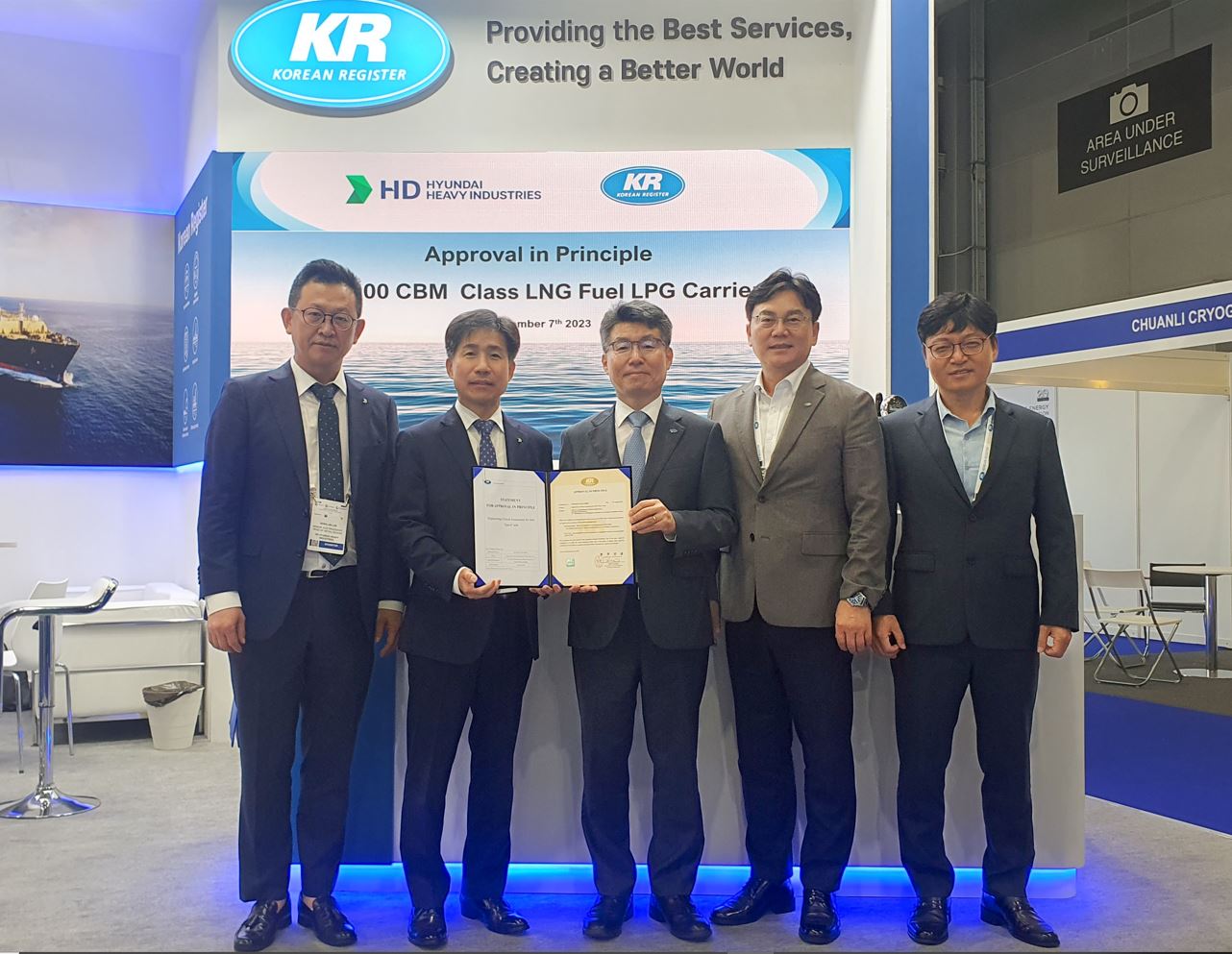 KR (Korean Register) has awarded an Approval in Principle (AIP) for an LNG dual-fuel VLGC (Very Large Gas Carrier) jointly developed by KR and HD Hyundai Heavy Industries (HD HHI) at Gastech 2023 in Singapore on 7 September.
Currently, the global maritime industry is grappling with the development of various countermeasures to meet strengthening greenhouse gas regulations, and market interest in eco-friendly fueled ships such as LNG is particularly high.
The newly approved LNG dual-fuel VLGC, which has been developed in response to the recent circumstances, utilizes both marine gas oil (MGO) and LNG as fuel and incorporates two LNG fuel tanks positioned on both sides of the open deck.
HD HHI executed the ship's basic design, established the layout of fuel supply pipes and the gas detection system, and designed the LNG fuel tank using their technical expertise. KR verified the safety, suitability and the regulatory compliance of the design by reviewing national and international regulations, leading to the issuance of the AIP for the LNG dual-fuel VLGC.
KIM Yeontae, Executive Vice President of KR technical division stated:
"KR has been focusing on the development of eco-friendly technologies relevant to LNG for several years because LNG is considered a major alternative that can meet the international regulations. We will further enhance our customer support to respond to decarbonization, based on our experience and technologies acquired from joint development projects with shipyards."
JEON Seungho, HD HHI's Senior Executive Vice President & CTO commented:
"HD HHI has been working to develop eco-friendly fuel propulsion ships such as LNG using our accumulated design technologies, and we are pleased to demonstrate our technical expertise with this AIP. We will continue to make technological innovations for the development of eco-friendly ships."
ENDS